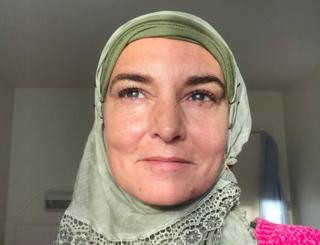 Irish singer Sinéad O'Connor has announced she has converted to Islam.
The artist, who is best known for her 1990 hit version of the song Nothing Compares 2 U, said she had changed her name to Shuhada'.
In a message on Twitter, she thanked fellow Muslims for their support.
On Thursday, Irish Imam Shaykh Dr Umar al-Qadri posted a video of the singer saying the Islamic declaration of faith.
End of Twitter post by @MagdaDavitt77
End of Twitter post by @DrUmarAlQadri
It is not the first time O'Connor, who legally changed her name to Magda Davitt last year, has publicly spoken about religion.
In 1992, she sparked controversy after ripping up a photograph of the Pope live on US television.
Seven years later, she was ordained by a breakaway church in Lourdes. The Catholic Church, which does not allow women to become priests, did not recognise the ceremony.
Other famous converts to Islam
Singer-songwriter Yusuf Islam, known by his stage name Cat Stevens, converted to Islam in 1977 and halted his career two years later to focus on work in the Muslim community – not returning to music until the release of a new album in 2006.
O'Connor rose to fame in 1990 with a striking arrangement of Prince's Nothing Compares 2 U.
Her version of the ballad topped charts across the world and spent four weeks at the top of the Billboard Hot 100, earning her three Grammy nominations.
The music video, directed by John Maybury, consists mostly of a close up on O'Connor's face as she sings the lyrics.
The visual won three Moonmen at the 1990 MTV Video Music Awards, including Video of the Year, where the singer was the first female artist to win the esteemed prize of the night.
Warning: Third party content may contain adverts
End of Youtube post by Sinéad O'Connor
She has released 10 solo albums. In August 2018, the singer released her first song in four years, called Milestones.
"This is just a first demo for fans because they never get to hear a demo," she told The Irish Sun, which shared the song.
She also revealed that she would be releasing a new album, No Mud No Lotus, "before October 2019".